Even when you know the different bet types that you can place in horse racing it can still be tricky to know how to choose a winning horse. This is a topic which has fascinating gamblers for decades, and there are countless books and websites suggesting helpful advice about what to look out for. Of course, luck is the major factor in whether or not you make a profit at the racetrack, however there are a few things you can do to improve your chances of selecting the right horse. If you read the programme for the race day thoroughly you will find lots of helpful information to inform your wagers. There is a dedicated section for every race to be held during the day with the history and statistics for every horse that will be racing. Here are some things to look out for.
Which Class Has The Horse Been Racing At?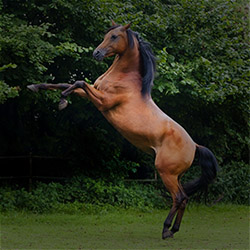 There are 4 different classes of race – stakes, allowance, claiming and maiden. Horses can move up and down a class through the course of a year depending on how well or poorly they perform, and as horses are raced with others who are at the same level, a change in their class can make all the difference about whether a horse wins or loses. Check whether your preferred horse has just been moved up – if they have, it may not be the right time to bet on them as they may be outclassed by more experienced horses.
Look At The Surface Type
All racetracks have a different surface. Look at the programme to see whether the horse has run well on the same type of surface as they are about to run on.
Look At The Jockey's History
If a jockey and horse are consistently hitting the top 3 spots, they're a reasonably safe bet. If a jockey is consistently being placed in the top three positions even when riding different horses, they are clearly talented and they may be a good bet even if they are riding a horse that is usually middle of the road.
Look At The Odds
Each horse has odds written next to it and the lowest odds is the favourite to win. If you're looking for an easy but low return, bet on the favourite to show as this will pay off around 67% of the time.
Go To See The Horses
Before each race, go to see the horses in the paddock. If your chosen horse is looking eager, that's a good sign. On the other hand if they're looking mopey, sweaty or jittery, they probably aren't a good choice. Look for an alert, calm animal.
Follow these tips and hopefully, you'll be increasing your chances of being a winner at your next race.